Mark your calendars for April 2nd, 2017 - National (ahem, INTERnational) DIY Day!
I and several other crafty-amazing bloggers have partnered with Craft Box Girls to bring you some of the best DIY and craft projects on the internet.
To start off the festivities and help you get your "Spring on", I thought I'd share this easy birdhouse display for your front porch.
Birdhouse Display
Supplies
3 birdhouses - purchased or DIY'd
scrapbook paper in Spring patterns
Mod Podge
small paintbrush
large paintbrush
scissors
finishing nails and hammer
sandpaper
scrap wood (cut list below)
2 1/2" and 3" wood screws
drill
wood glue
paint or stain of your choice
outdoor varnish or other protective coating
There are a million-and-one birdhouse plans available online, so building your own won't take more than a few pieces of scrap plywood and a few cuts but - if you'd rather shortcut this step - both dollar stores and craft stores are chock full of unfinished birdhouses this time of the year.
I chose to build three whimsical houses with angled-in bottoms for my birdhouse decor.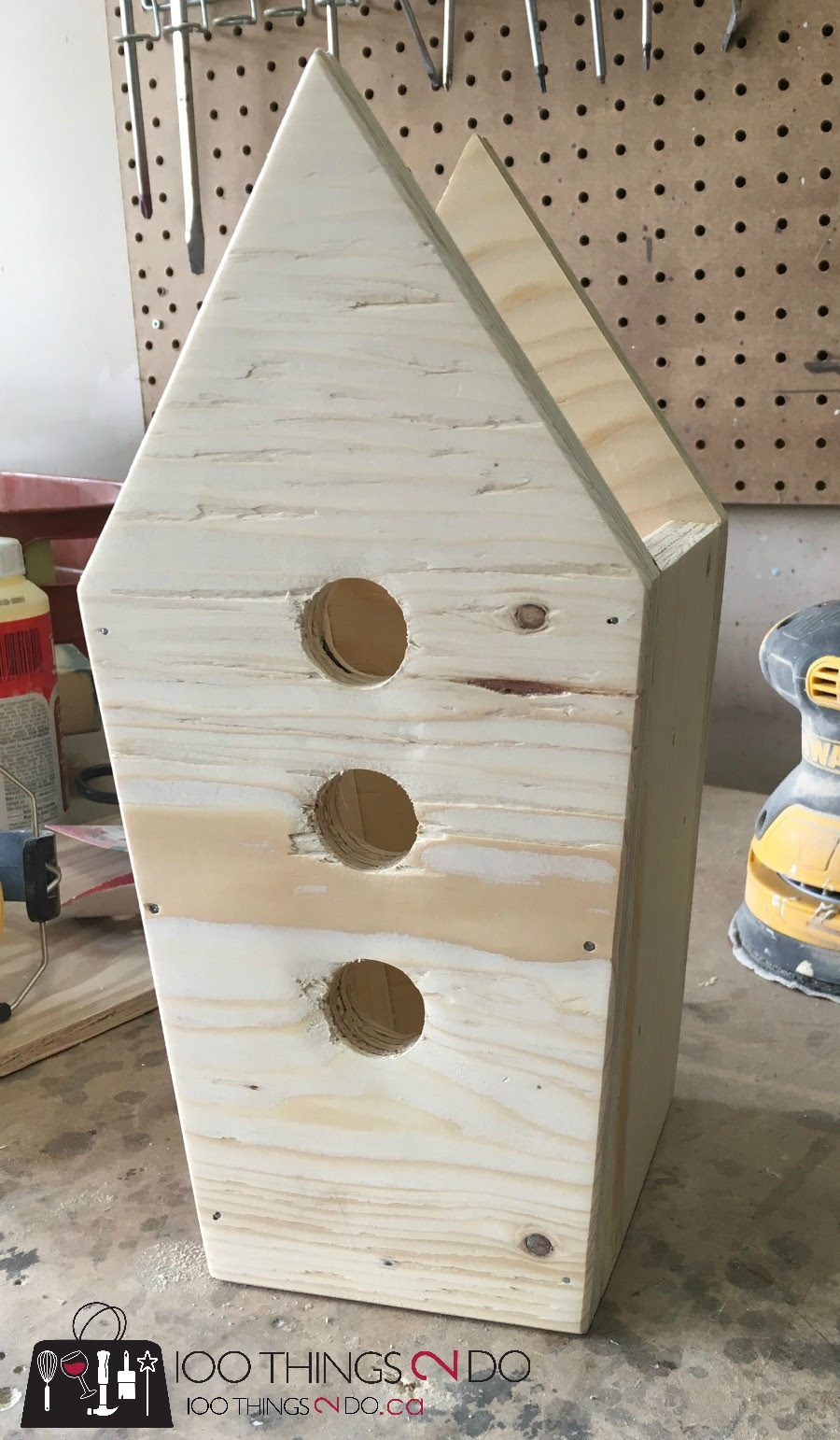 Step 1
Carefully remove the roof pieces (or don't attach them if building from scratch) from your birdhouses.
Step 2
Select out three patterned sheets of scrapbook paper to decorate your houses with.
Step 3
Trace your birdhouse front and back onto the back of your scrapbook paper and cut the image out with about a 1/2" excess on the top and sides.
Step 4
Coat the front of your birdhouse with Mod Podge and carefully attach your scrapbook paper, folding over the excess onto the roof line and sides.  Don't worry that you are covering the opening - we will cut this out in a later step.  Smooth out to remove any air bubbles and to ensure a nice, tight adhesion.
Step 5
Cut out two more pieces of scrapbook paper to the exact size of the side of your birdhouse/s.  Apply a coat of Mod Podge to the wood and smooth into place.
Step 6
Using an exacto knife or sharp scissors, cut an 'X' through the centre of your birdhouse openings, then cut additional slits to that the paper will fold into the openings smoothly.  Apply some Mod Podge to the inside of the opening and smooth the paper into place.
Step 7
Re-attach your birdhouse roof using a bit of wood glue and finishing nails.
Step 8
Coat your birdhouses with an outdoor-appropriate varnish or clear polyurethane to protect the paper and wood from the elements.
Step 9 - the birdhouse display stand
I made my stand from scrap pieces of 1"x6" wood.  Cut list as follows:
I glued and screwed my two 20" boards together to give my stand some strength and stability.
The 14" piece was determined as the minimum necessary to hold all three of my birdhouses, so this piece will vary in size based on your birdhouse sizes and numbers.
The 16" board was cut at a 45 ° angle on either end for a more decorative look.
The 4 ¾" square was cut from corner to corner (again, a 45°  angle) to give me two base stabilizers.
Step 10
Centre your 20" boards (now one piece) on your 16" base.  Glue in place and drill up from the bottom into the stand section using two, 3" wood screws.
Step 11
Centre your 14" board on the top of the stand section and glue and screw into place.
Step 12
Glue your base stabilizers in place and reinforce with finishing nails.
Step 13
Sand smooth and finish with the paint or stain of your choice.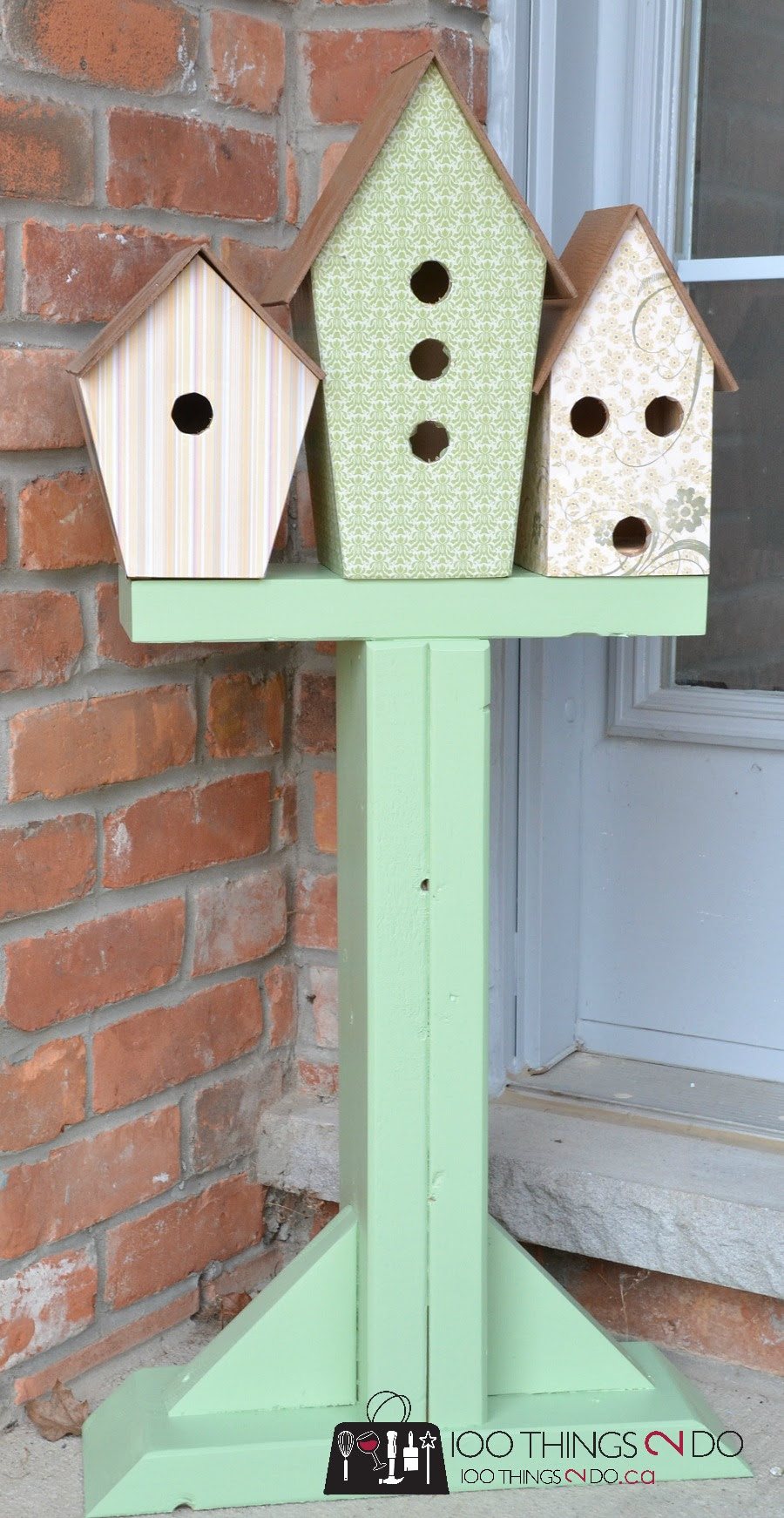 Step 14
To attach the birdhouses to your scrap wood display stand, simply drill up from the bottom of the 14" piece of wood into the base of the houses.  This birdhouse display is for decor purposes only, but if you are concerned that birds might actually move into your condos, select screws that won't poke through the base of the birdhouses themselves.
Step 15
Set your new Spring porch decor on your front porch and decorate with flowers, burlap, raffia or potted plants.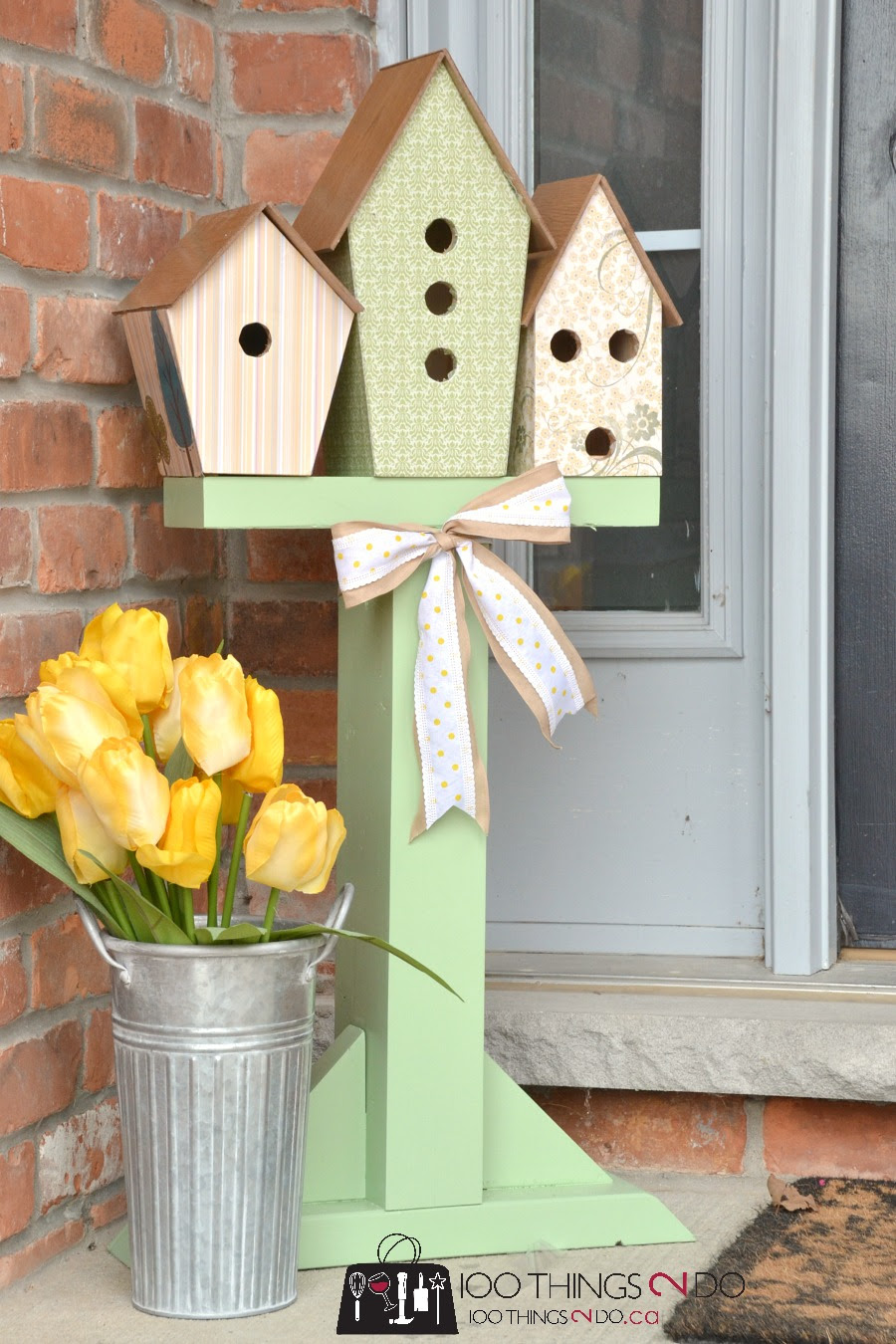 As a National DIY DAY ambassador I am proud to support AdoptAClassroom.org and their mission to give teachers a hand by providing much-needed classroom materials so that their students can learn and succeed. National DIY DAY and 100Things2Do.ca are committed to supporting classrooms and providing tools for students and teachers to enhance the creative learning experience.
Support AdoptAClassroom.org by Texting a Donation Today! Text the word "Give" to (678) 582-8594 and you will be prompted through a secure system to make a donation of your choice! 
Have a great one!
-Shelly
National DIY DAY Ambassador| 100Things2Do
Connect with Shelly: Website | Facebook | Pinterest | Twitter | Instagram | Youtube | |Email
About Shelly
London, ON
100Things2Do.ca started as a challenge to myself.  I was home with my two young girls and needed to come up with a way to entertain them and keep myself sane in the process.  The blog began with the "100Things2Do This Summer" checklist and has evolved to include refinishing, repurposing, building and crafting as well. It is A Home & Lifestyle blog featuring crafts, DIY, organization and family fun